HireTrack NX and Sage are integrated via the Sage Integration Server. This is a Windows service that runs on the Sage database PC and allows HireTrack NX users, on other machines on the network, access to Sage's data in a controlled way.
To install:
1. Download the server install file NavigatorSageIntegrationServerSetup
2. Double click on the downloaded file to start the installation process - remember this MUST be run on the machine that runs Sage.
3. Press Next. Read the license agreement and Click if you agree to its terms. If you don't agree then you won't be able to install the software.
4. Select the folder that you'd like the service to be installed to.
5. Press Install to start the process.
6. If any of the files required by the install are in use (which may be the case if you're upgrading an earlier version), you will be asked to close the application.
7. When you've finished. Check the Launch Server Manager checkbox, ready to configure the Integration service.
8. This will close the installer and open the Server Manager (which can also be opened directly from the Windows Start area)
9. Click on settings. This will display the currently selected working directory, which there should be no need to change and the TCP/IP port used to communicate with the service from HireTrack NX. It's unlikly that you will have any other apps using the default port of 8260, but if you do, this is where you change it. Once changed, Save Settings and Close this window.
10. Now click on the Sage Account Connection button.




Firstly locate the path to your Sage data - if you're not sure where this is, the Help | About screen within Sage will display the Data Directory - this is the setting you want to copy. Note if this is a mapped network drive, then use the UNC version of it.
Next you will need to create two new users within Sage
Give the new user a logon name and password, and give them full access rights.
This user is separate to all the human users you have, and can be used at any time without affecting the maximum number of users allowed in Accounts.
We suggest you set up users called SDO (as in Sage Data Objects) and SDO2, with the same password.
Note that if further restriction is required on the SDO user for security, apply these restrictions in the normal way by clicking Details on the user access rights screen.
Enter these two users in to the Server Manager along with their passwords. Save the settings and Close the Window.
11. Enabling third party integration with Sage Accounts
One thing to note about third party applications - such as the Sage Integration Service - connecting to Sage Accounts is that you must perform a one-off task to enable third party integration (also known as Sage Data Objects, or SDO). This will require an email or phone call to Sage to get your serial number and activation code for SDO.
Note that this is not the same as the original product serial number and activation code, so you will need to call them. This only needs to be done once for all third party applications, so if you already have third party applications which integrate with your Sage 50 Accounts, then you will not need to perform this step.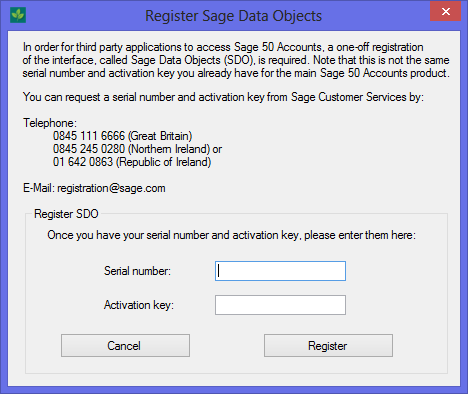 Alternatively, this step can be performed within Sage 50 Accounts by going to
Tools > Activation > Enable 3rd party integration.